YOU CAN HELP BY DONATING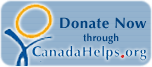 Donate by credit card online at CanadaHelps.org
(a secure website)
by clicking on the above link,
or save us the 3.9% service fee by
mailing your cheque to:
ANIMAL WELFARE ASSOCIATION
P.O. BOX 57423, JACKSON STATION
HAMILTON, ONTARIO L8P 4X2
CANADA

** PRE-AUTHORIZED DEBIT (PAD) AGREEMENT **

If you wish to donate monthly, we are now able to set up pre-authorized debit donations
to come out of your bank account on the same day of every month
without having to write monthly cheques or worry about when your cheques will be cashed.
The PAD agreement forms are available now from our treasurer and will soon be available
as a PDF to download from our website if you are interested in donating this way.
The PAD agreement may be changed or cancelled at any time.
Please contact Karen Reynolds at 905-523-1075 or email awa@xux.net
for more information and to obtain the PAD agreement forms.

** NEW TAX CHANGE BENEFITS DONORS **

The federal government recently eliminated capital gains tax on gifts of
appreciated publicly traded securities. This means that donors no longer pay
capital gains tax when they give shares to a registered charity.
In addition to the tax break, donors also receive a tax receipt
for the fair market value of the shares.
Refer to the Canada Revenue Agency website.
If you'd like to increase your support of AWA but don't want to rely
entirely on a cash gift, consider donating a gift of securities.
To arrange a gift of stock or for more information, contact
Helen Douglas at 905-544-1053
or email awa@xux.net
Animal Welfare Association is a registered charity
# 88 669 7598 RR0001
and will issue a tax receipt when you make a donation.
Please consider a memorial donation on the loss of a beloved pet
or to honour the memory of a loved one.
A bequest in your will is another way of helping the animals.